About Custom USB Cables, Today, USB cables are everywhere and available to anyone.
They have become the driving force for charging smartphones, cameras, and even modern laptops, to name a few.
However, these pieces of equipment come in a wide range of shapes and sizes despite having similar physical features.
In this article, we will look closer at custom USB cables.
What is a USB Cable?
USB, full terminology of the acronym Universal Serial Bus, refers to an industry-standard component used for communicating, connecting, and charging different devices and access.
Not all USB cables are designed similarly, no matter how alike they seem.
For instance, a pair of USB-C cables may look the same, but both have different capabilities and features, such as transfer and charging speeds.
The USB 2.0 comes with two wires meant for power: the +5 volt and ground and a twisted pair of wires for data transmission.
However, it can only send data in a singular direction at a given time, either upstream or downstream.
Due to the addition of four additional data transfer wires, USB 3.0 may send data simultaneously in both directions.
Individual USB cables can cover as much as 5 meters, And when it comes to hubs and devices, this length can extend up to 39 meters or six cables worth from the host.
Inside USB cables
USB Cable Versions
The following is a breakdown of some of the different USB cable options in the market.
| | | | |
| --- | --- | --- | --- |
| | Transfer speeds | Direction | Max power output |
| USB 1.1 | 12Mbps | Peripheral direction | 2.5V, 500mA |
| USB 2.0 | 480Mbps | Peripheral direction | 2.5V, 1.8A |
| USB 3.0 | 5Gbps | Peripheral direction | 2.5V, 5A |
| USB 3.1 | 10Gbps | Bidirectional direction | 2.5V, 5A |
| USB 3.2 | 20Gbps | Bidirectional direction | 20V, 5A |
| USB 4 | 40Gbps | Bidirectional direction | 48V, 5A |
| Thunderbolt 3 | 40Gbps | Bidirectional direction | 100W(up to 5K video output and daisy-chaining) |
| Thunderbolt 4 | 40Gbps | Bidirectional direction | 100W(up to 8K video output and daisy-chaining) |
USB 3.0 cables can be used on USB 2.0 ports. However, you won't get the same transfer speeds and power output as using a USB 3.0 port.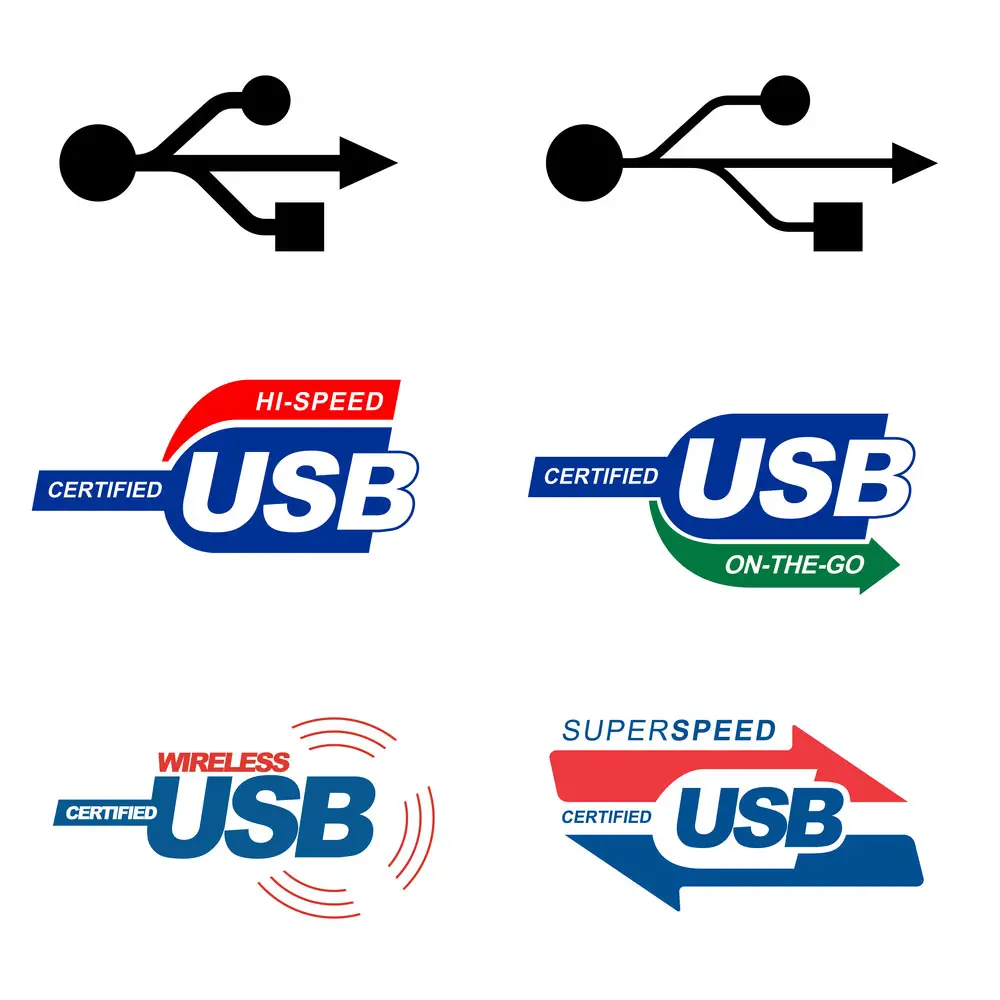 USB logos
USB Plug Types
The following are some USB plug types available to users.
USB-A
It's common to find USB-A connectors on the end of most USB cables.
You can use the USB-A connector to transfer data among your devices and charge other gadgets.
However, this only applies to devices that use a USB-A port.
USB-A
USB-B
The USB-B is not as readily available as mentioned above or as versatile as most of its counterparts and is primarily used for connecting scanners and printers to computers.
They also have a square shape with beveled exterior corners on top ends.
Finding a USB Type- B port on certain devices is still possible, but it is becoming rare.
USB-B
USB-Mini
In the past, the USB- Mini was the benchmark for various devices until the more advanced micro-USB connectors replaced it.
However, users can still find it on older models of different devices, particularly cameras, game controllers, and MP3 players, to mention a few.
Also, as its name implies, it is smaller than your standard USB but bigger when put up against its main competitor.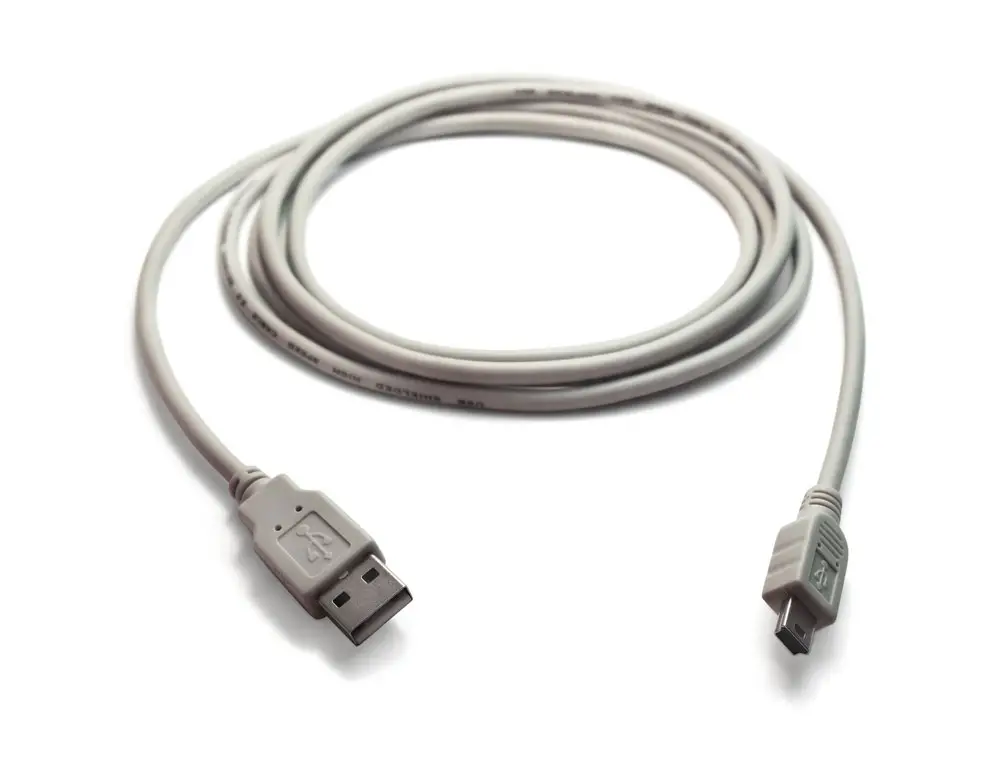 USB-Mini
Micro-USB
There was a time when the Micro-USB plug was widely adopted, even though it is being left behind quickly in today's market.
It is tiny, allowing manufacturers to design slimmer versions.
You can see affordable smartphones and accessories like wireless earphones and Bluetooth speakers coming out with micro-USB ports.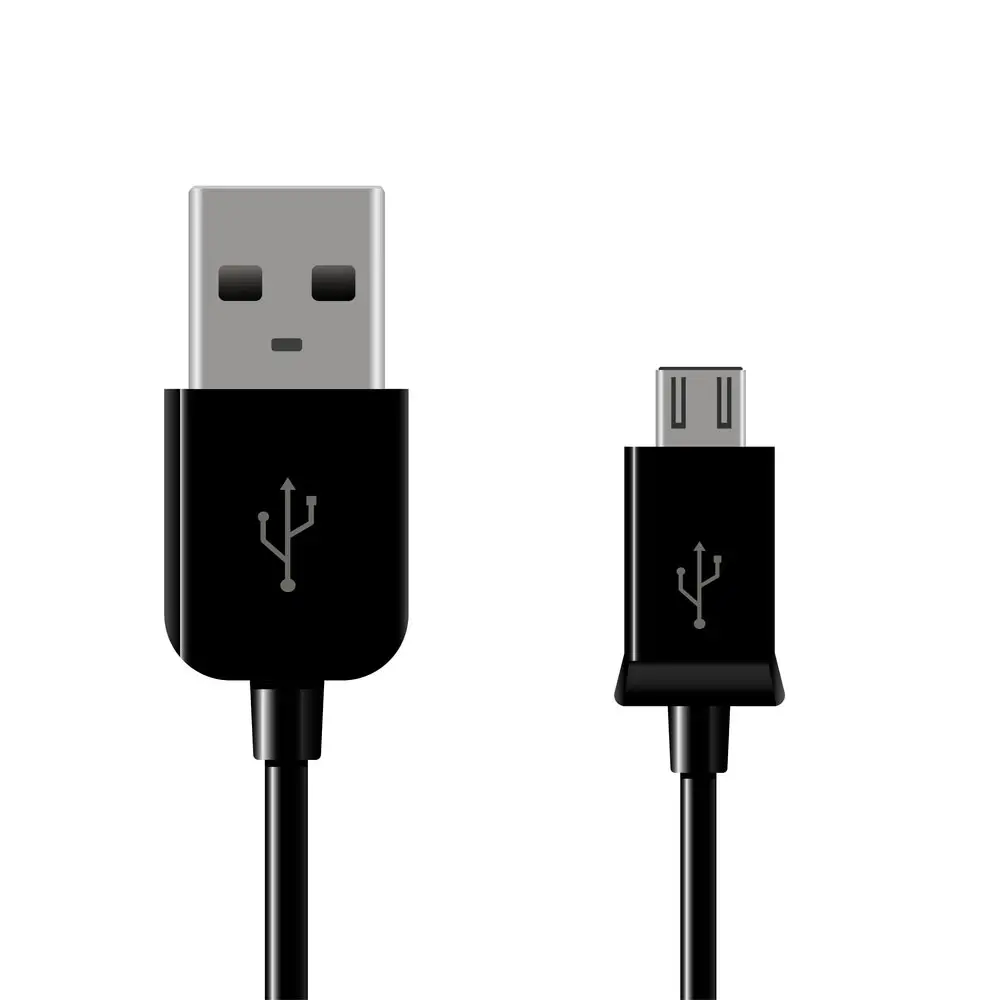 Micro-USB
USB-C
You'll find this USB plug, actually the latest, on most new devices.
It provides faster data transfer speeds and more power output than the previous versions.
And its biggest advantage is that it's reversible, meaning users can plug it up or down.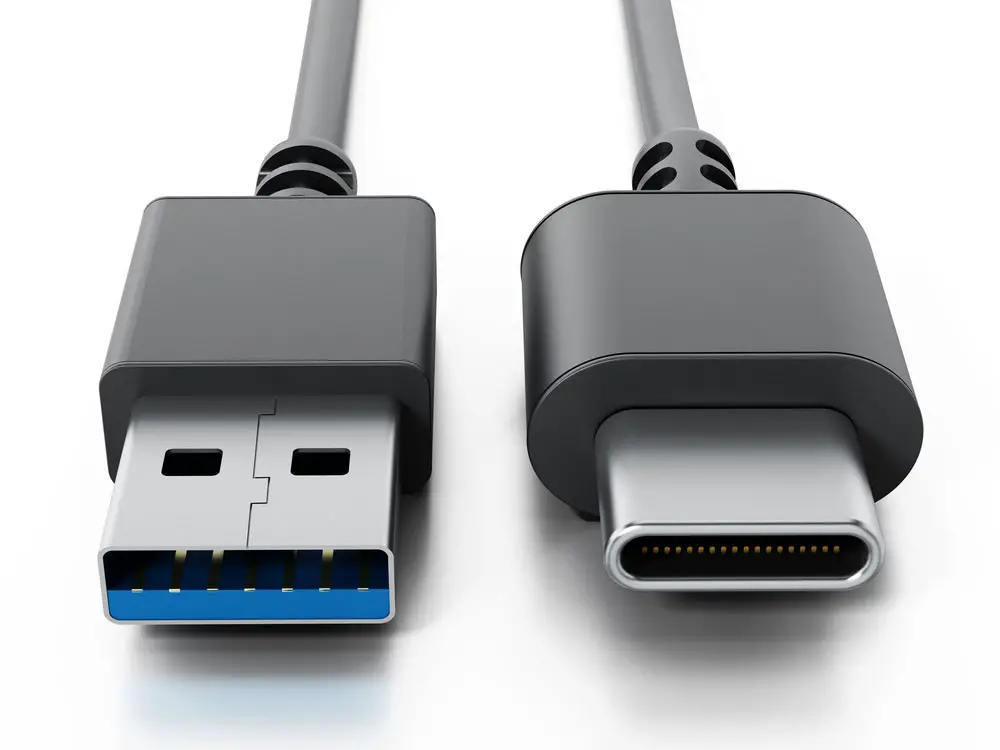 USB-C
The manufacturing process of USB cables
A USB cable comprises two main parts: the connectors and the cable that goes through a handful of processes to be designed.
Below are the several steps involved in creating the various parts.
Cutting the appropriate cables
The first step is to cut them into the required lengths from unprocessed materials.
Note that they are fairly long and must be cut into lengths of 1, 2, or 5 meters.
Exposing the inner conductor
Cables contain several wires. In addition, to avoid electromagnetic interference, they have to be foiled or braided.
As a result, during the manufacturing process, there will come the point where you expose the inner wires so they can be connected as needed.
Begin by stripping the external jacket of the cables.
Clear the spiral and braids arrangement by folding them in opposite directions.
Once done, you can strip off the foil to expose the wires.
The final thing will be to strip the internal jacket to expose the conductors.
Connecting the wire and terminal
This phase involves soldering electronic materials using tin.
The technicians dip the conductor's endpoint into the solder, then repeat the process with melted tin.
They will solder the conductor and the connectors pinpoint.
The final step will be to examine the soldering to determine whether it meets the requirements.
Many prefer to use tin for soldering, primarily due to its low melting point, ideal fluidity, and sturdy copper and iron surface affinity.
Molding
This step is when the technicians cover the conductors and connect joining the pit using an injection molding machine.
The first thing is to protect the initial layer using internal injection molding.
The second thing is to place iron shells for additional protection, which is optional.
From here, the technicians will look at the electrical performance of the partly finished products.
If all is well with the above step, the technicians will add a final layer of protection using external injection molding. They will also place the logo and tag of the brand.
The last thing will be to conduct another electrical test to determine the cable's effectiveness.
Final checking and packaging
This step is when the technicians conduct another test to ensure effective electrical performance.
In addition, they will also look over the cables to determine if there are any flaws.
They will ship out the products for final packaging if there are none.
Custom-tailored USB-Cable at Cloom
Custom-designed cables come with several features, including grommets, pigtails, strain reliefs, unique colors, logo inserts, and so much more.
In addition, they can be found in different shapes and sizes, like
Waterproof panel-mount USB
Latching USB
LSZH USB
Right-angle/ Left Angle USB
Up Angle USB/Down Angle USB
USB cables with two plugs
USB A – Mini-B cable
USB A – Micro-B cable
USB A – USB B cable
USB A – USB A cable
USB Bridged cables
USB adapters
Aside from being configured with all the connectors mentioned above, some of the other kinds of connectors with adapters that this can also happen with include:
The BNC Male to USB
The 2.5mm to USB
The 4-pin MOLEX to USB
The 2.1mm DC Plug to the USB
The USB to Ethernet/rj45
The USB to HDMI
The USB to Serial
The USB to Blunt
Custom USB Cables: Host controllers
Many host controllers come with USB-A receptacles; therefore, this cable is usually USB-A to another device.
Cables tend to have names on the alternate ends, which is also true with the USB A plug.
However, certain small host devices have micro or mini-USB receptacles, with the USB-A getting a pigtail adapter.
Custom USB Cables: USB cable with hubs
The USB cables that come with hubs allow for the connection of several USB hosts into one host port, allowing you to use as many as 127 devices if they can manage the power limitations.
Custom USB Cables: USB extension cord
Devices like WiFi adapters and webcams need to be free.
One way to achieve this is by extending the length of your original USB cable with extension cords with a plug on one end, with the receptacle on the alternate side.
Usually, the maximum cable length is around 5 meters.
Custom USB Cables: Active USB cables
These are 1-port USB hubs with circuitry typically found at the receiving end capable of regenerating signals and transmitting data over long distances.
They also tend to be bus-powered, but longer cables can still have a USB-A connector or an external AC adapter to ensure the signal booster has enough power.
There are situations where the active cable can be daisy-chained, given that power is available for every transceiver in the chain.
People can use standard USB cables with an active cable provided the regular cable does not exceed 5 meters long for the 2.0 components and not more than 3 meters for 3.0 devices.
In most cases, active cables tend to be bus-powered.
However, you may have to purchase an active cable with a separate power adapter to enjoy the maximum 500mA power of their USB port.
Conclusion
USBs have become the new standard for most mobile and laptop devices.
Therefore, understanding how they are made and function is critical if you wish to use them effectively.
For all your custom USB cable needs, contact Cloom Tech.