Silicone vs. Teflon is the most commonly used material for cable and wire insulation meant for service in high-temperature situations or under intense conditions that can easily degrade physical or electrical properties.
Therefore, this article will help you better understand some primary features.
Defining Hi-Temp Wire
A hi-temp wire operates at a temperature of about 1500C, sometimes higher.
Several manufacturers refer to wires operating at temperatures of 1250C or higher as high-temperature ones.
However, such distinctions are less common because 1250C is a standard operating temperature.
And when you apply high temp wires, there are some things you need to be clear about.
High-Temp Wire vs. High-Resistant Wire
When discussing a high-temperature cable, we generally discuss a minimum operating temperature of 1500C.
In the case of heat resistance, we define the insulation and shielding of a wire when it comes to withstanding heat.
Further, a high-temp wire is generally heat-resistant, while the heat-resistant one is not always the high temp wire.
Wire Operating Temperature of Popular Cables and Wires
Operating temperature refers to the temperature at which a wire can typically function for a long period.
There are times when cable and wire manufacturers may also state a higher maximum temperature.
However, it refers to the temperature at which the wire can function briefly without incurring any damage.
Popular Cable and Wire Temperature Rating (For Dry Conditions)
Wire Temperature Rating
Popular Cable and Wire types
750C
THW
900C
Aluminum MCTHHN
Aluminum URDRomex NM-BType WType G-GCDLO, SOOWTHWN-2SEUXHHW-2XLP-USE 2 RHH RHW-2UF-BSER
1050C
MTWPC WireBattery CableHook-Up WireSEOOWWelding CableFlat Festoon Cable
1250C
Type P Marine CableJumper Cable
Note: All the ratings mentioned above are considered to be standard.
However, their characteristics can still be changed or enhanced alongside the assistance of insulations that have an increased operating temperature, enhanced cable conductors, or both, which is quite common.
When Should I Use High-Temp Wire?
In most cases, a high-temp wire operating at a continuous temperature of 1500C or more should be used in environments often experiencing significant heat levels as a power, control, and instrumentation cable.
Industrial Applications
Drilling Rigs
Industrial Ovens
Oil Refineries
Metal Melting Heating Systems used for Casting Purposes
Electric Arc Steelmaking
Power Plants
Glass Plants
Robotic Plants
Ironwork Plants
Plastic Plants
Robot-Operated Welding Machines
Car Plants
Other Metal Plants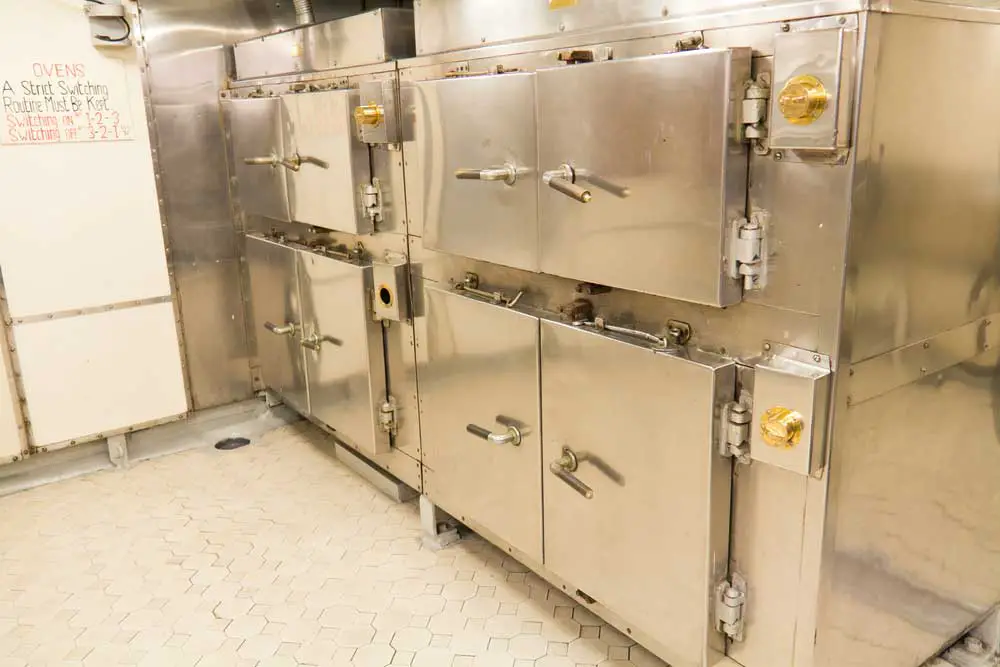 Industrial Oven
Military Applications
Missiles
Aircraft
Navy Ships
Utility Applications
Residential and Commercial Applications
Domestic and Commercial Ovens
Several Other Cooking Appliances
Hospitals and Health Centres Specified Medical Equipment
Residential and Commercial Appliances
Lighting Fixtures
Clothing Dryers
Types of HIgh-Temp Wire Insulation
Below are the various types of high-temp wire insulation.
Teflon/TEF/FEP/PTFE, whose operating temp is 2500C.
Silicone Rubber/Silicone, whose operating temp is 1800C and subtypes include SRK and EPDM.
Mica Glass, whose operating temp is 4500C.
Most Popular High-Temperature Wire
| | |
| --- | --- |
| Silicone High-Temp Wire | Teflon High-Temp Wire |
| SRML – UL 3252, UL3254Nickel – 250oC – 600V | TGGT (UL 5288) – Teflon Glass Glass TeflonNickel – 250oC – 600V |
| SRLM-K UL 3231, UL 3410Tinned – 200oC – 600V | TGGT (UL 5127) – Teflon Glass Glass TeflonNickel – 250oC – 600V |
| SGI – UL 3257 Ignition WireNickel – 250oC – 600V | CSA AWM PTFE UL 1198 and 1199Silver – 250oC – 600V |
| CSA SEW-1, UL SF-1Tinned – 200oC – 300V | CSA AWM PTFE UL 1164 and 1180Silver – 200oC – 300V |
| CSA SEW-2, UL SF-2Tinned – 200oC – 600V | MGT – Mica Tape Glass TeflonNickel – 450oC – 600V |
| CSA SEWF-1, UL SFF-1Tinned – 150oC – 300V | N |
| CSA SEWF-2, UL SFF-2Tinned – 150oC – 600V | N |
| Braidless Silicone Fixture UL 3212, 3213, 3214Tinned – 150oC – 600V | N |
Insulated Teflon Cable and Wire/Teflon Coated Wire/PTFE Coated Wire
It is one of a product developed back in 1938.
As an insulator, it is highly durable for mil-spec and hook-up wiring applications and can perform in high-temperature environments.
Applications of Teflon Wiring
Teflon is known for having a variety of uses, and as mentioned earlier, it is often used for military applications, hook-up wire, and high-temperature situations.
Its durability makes it highly sought after, especially when you consider the fact that it can withstand temperatures of up to 4500C.
Other applications that rely on Teflon include; power steering, navigating, air conditioning, and heated car seats.
In addition, with such a strong and durable construction, Teflon wires and cables can take on any demanding application setting.
Various Teflon Grades (PTFE, ETFE, FEP)
In the earlier stages, Teflon was created using a basic standard, but as time went by and technology improved, we have seen the evolution of Teflon.
Below are the various grades of Teflon.
PTFE (Polytetrafluoroethylene)
ETFE (Ethylene Tetrafluoroethylene)
FEP (Fluorinated Ethylene Propylene)
PFA – This is a colly polymer version of the PTFE. It works because its ideal mechanical properties and melt processability are achieved when the co-monomer perfluoroalkyl vinyl ether can interfere with the molecular weight and cry-stability without necessarily sacrificing chemical resistance and thermal performance.
Insulated Silicone Cable and Wire/Silicone Coated Wire
Essentially, silicone and Teflon wire have similar voltage ratings and temperature features. However, it is still unique in a variety of ways.
As an insulator, silicone comes with various distinct features that allow it to fulfill most of its requirements regarding specific applications. Flexibility is one of these features, particularly in high-temperature environments.
This is why SGI cables are often used as hook-up wires in harsh environments.
It can fit in very compact spaces and withstand different levels of handling, which is what their counterparts cannot do.
So, you can apply it in hard-to-reach areas requiring regular maintenance.
In addition, it is also available in fiberglass high-temperature wire like the SRML and SEW constructions.
Further, silicone's resistance capabilities mean it can withstand aging, UV- radiation, ozone, radioactive rays, and weathering.
Conclusion
Teflon and silicone can serve various applications, whether heat resistance wire exposed to high temperatures or hook-up wire.
It's important to understand the purpose of your application because no option is better overall, with each having its advantages and disadvantages.
For all your high-temp wire insulation needs, contact Cloom Tech.