Automotive systems are undergoing many changes, and microprocessors control modern automotive systems.
As a result, there is a rising demand for good quality and reliable electrical wires and connectors, such as the pigtail wire harness.
Pigtail wire harness understanding:
A pigtail harness refers to a wiring harness having an open ECU-compatible connector at one end and loose stripped wires at the other.
These individual or loose stripped wires are called pigtails, and that's how the harness got its name. The standard length of these harnesses is 6 feet or 2 meters long.
However, you can find 12-foot options also. If you want customized lengths according to your applications, Cloom can supply you as desired.
Pigtail connectors have dielectric grease filled inside that prevents moisture ingression into the connector.
While inserting the wires into the connector, you need not strip them. Insert the wires directly into the connector and press the point with the blue cap using a pair of pliers.
A few metal tines inside the connector slice through the wire insulation, forming a connection.
Due to this property, these connectors are also called insulation displacement connectors.
You can connect up to three different-sized wires (20 AWG to 14 AWG) in these connectors.
Pigtail connectors are UL-listed with CSA certification and can operate at a maximum power rating of 300 volts.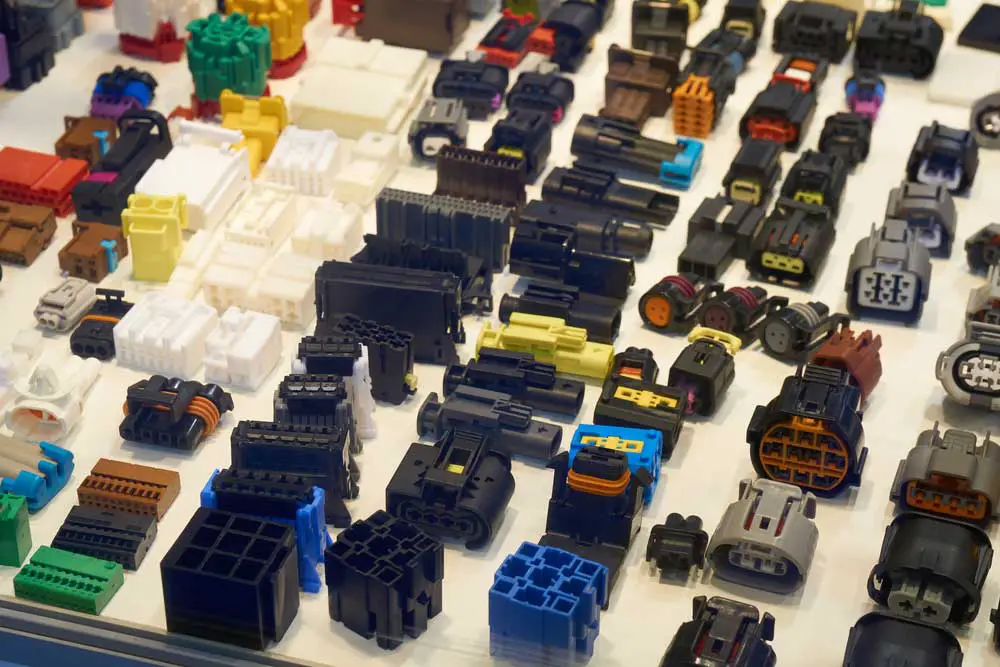 Pigtail connectors
Classification of Automotive electrical pigtail wire harness:
Any vehicle will have an average of 274 pigtail connectors, including circular, power, rectangular, PCB, charging, and other connectors.
As vehicle communication applications increase, increasingly pigtail connectors of high quality, high frequency, and high speed are becoming popular.
Power pigtail connectors attach the heating unit of the automobile to the power supply, volume controls, switches, and other components.
Automotive electrical connectors to connect vehicle speakers.
Surplus electrical connectors connect special peripherals such as CD desks, amplifiers, remote control, and other accessories.
Optional connectors to connect satellite navigation systems.
Other electrical cable connectors connect sensors, relays, lighting, power windows, and ignition systems.
While looking for an automotive electrical connector, you must consider wire size, voltage, circuit, current rating, engagement force, and configuration.
Further, if you are replacing a damaged connector, get an OEM connector to ensure proper and faster repair.
Customized automotive pigtail wiring harness supplies:
Cloom has been in wire manufacturing for many years and offers a complete range of solutions for your automotive applications.
We manufacture wiring harnesses for fuel injection, ignition coil, sensors, lights & lamps, engines, car radios, chassis, etc.
We started with small pigtail harnesses but have grown to become a specialized and quality manufacturer of intricate wiring harnesses, including engines, chassis, or lamp harnesses.
Also offer customized solutions and over-molding services to the tuning market of the automobile industry, including agricultural machinery, mining machine, motorcycles, cars, racing cars, superbikes, e-bikes, and sea-doo.
And We aim to deliver superior quality products to our customers at cost-effective prices so that they get a higher advantage in this competitive world.
Our supply and logistics are vast enough to deliver you a huge stock of wires, wire seals, PVC clips, terminals, and whatever you order in quick turnaround times.
Additionally, you can get several custom components manufactured through 3D prototyping technology at our tooling workshop to support our custom-designed wiring harnesses.
We do manual assembly of wiring harnesses as it involves various processes.
Thus, our factory has a huge staff of skillful workers and craftsmen.
We also build automation facilities like wire cut, strip, and terminate to enhance semi-automation production and increase productivity.
Different types of pigtail wiring
Details of our pigtail wiring harness supplies are as under:
| | |
| --- | --- |
| Name of the product | Automotive wiring harnesses |
| Specification | Customized options |
| Material used | UL/CSA, SAA, VDE, CE, CB, etc. |
| Sizes available | Thousands of connectors are available |
| applications | Automotive and Industrial |
| Colors available | OEM color or black |
| Sample | Provided for evaluation |
| Certifications | RoHS, TUV, T/S16949, and ISO 14001 |
| Minimum Order Quantity | Small orders accepted |
| Delivery | Timely delivery due to huge stock and large production capacity |
| Packaging facility | Export standard cartons with 100/200/300/500, or 1000 pieces per bag |
| Designing | We provide samples, welcome OEM/ODM, and offer customized drawings with print/decal/frosted on request. |
Conclusion:
The market has various pigtail wire harnesses based on shapes, sizes, and dimensions to integrate and support electrical systems from complex industrial machinery to sensitive medical devices.