An OEM or original equipment manufacturer can manufacture system parts precisely per the specifications, including the OEM wiring harness.
This article details how the simple concept turned into volume manufacturing and became many automotive applications' vital workhorses.
What is an original equipment manufacturer harness?
It combines wires, cables, connectors, terminals, and other components in an insulated and sheathed covering to fit the various environmental needs.
An OEM harness has the exact specifications of the original parts to fit into the existing system seamlessly. Take an automotive application as an example.
Every vehicle has different systems, including battery cables, headlights, alternators, and many others; all need free exchange of power, signal, and data to function correctly.
OEM wire harnesses are an essential and critical supportive element of an OEM part.
With these harnesses, you can get a connection to transfer power, signal, and data to all the outlying systems to maintain the connection.
Furthermore, vehicles undergo a lot of environmental stresses, and we need measures to mitigate them during the designing and prototyping stages to make wire assemblies work according to the given specifications.
Manufacturers work on wire assembly manufacturing in such a way that it negates the effect of different environmental variables bombarding the assemblies.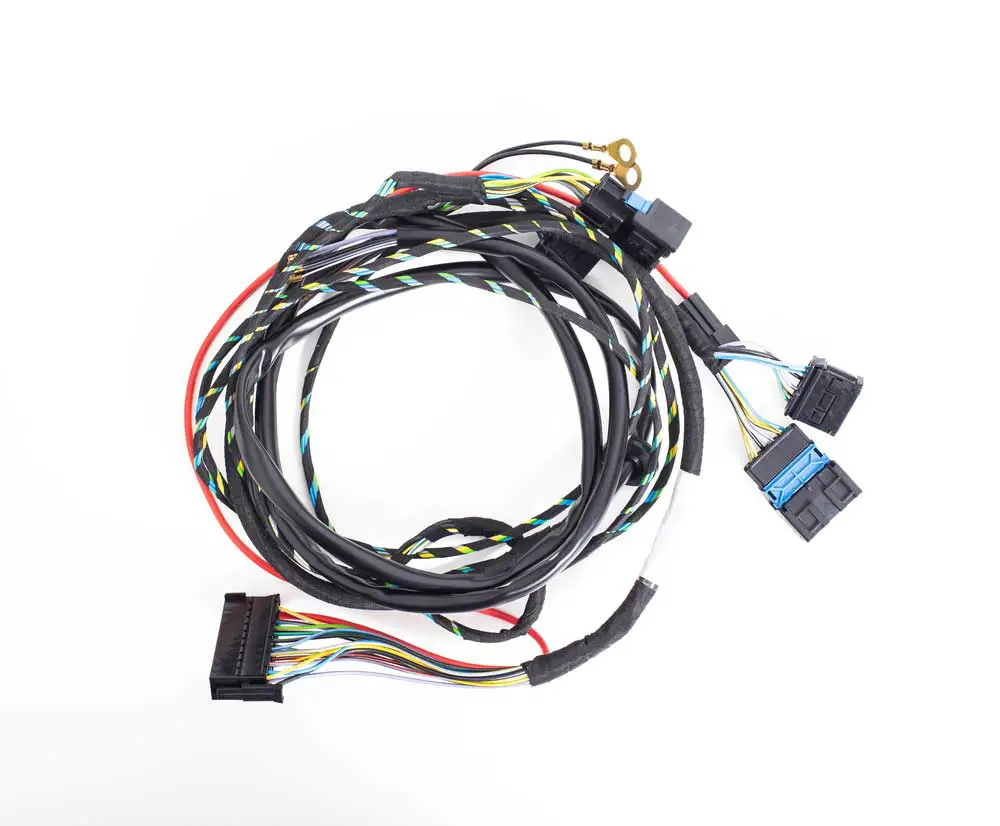 OEM wire harnesses
Designing OEM wire harnesses:
The original functionality of an OEM wire harness in a larger system depends mainly on the wire harness design.
The overall design has two main components; physical space for the components and the threshold for transmitting signal, data, and power.
Further, manufacturers must consider different environmental factors also to produce an effective and reliable product.
Space constraints:
In wire assemblies, cables and wires must navigate very tight spaces to create a critical junction between two components.
Whether you design a wire harness for a fighter jet or a simple industrial control unit in municipal power waterworks, space constraints play a huge role in deciding the final design of the harness.
When a cable requires bending, the wire harness engineer considers that factor and uses the right material and design to overcome these stresses.
Power, data, and signal requirements:
You use different cables, from coax cables to Cat5 cables, in various electrical systems for their functioning.
The wire gauge determines how much current a wire can safely transmit through the system, the right type and number of structural components like filler and insulation materials help with the transmission, and the cable jacket protects you and the internal parts from hurt.
All in all, engineers ensure all wires and cables are easily deployed based on the exact specifications.
The effect of external factors:
An OEM wire harness manufacturer must consider environmental factors to allow the vehicle's electrical system to work continuously in different weather and climatic conditions.
Vehicles face moisture, heat, abrasion, oil, caustic agents, and several other stresses, which need deterrents to keep at bay.
However, these deterrents must be efficient in design and budget.
A manufacturer can design an OEM wire harness after considering all the constraints of a harness.
Vehicle's wire harness
Converting the concept of an OEM harness into reality:
Engineers who create designs for a new OEM wire harness test different iterations on modern modeling software to ensure a system can perform under different simulating situations.
The designs that fit all aspects move forward for manufacturing wire harness assembly, known as schematic, which is then translated to a physical assembly board or pin board.
Think of a pin board as a large diagram of an OEM harness on which engineers can map out different pieces and parts with their particular location and check whether they can match the application requirements based on the manufacturer's specifications.
To integrate into the finalized assembly board, wires and cables come with identifying features, terminals, and connector housing.
In such a manner, wire harness engineers maximize efficiency and utilization.
They may need supporting structures such as ties, straps, and cable sleeves to protect and strengthen the electrical system.
Further, they also use a combination of semi-automated, fully automated, or hand tools to produce different final product components.
Though wire harness assembly manufacturing utilizes semi-automation and automation processes, a large part is still done manually as it involves various intricate processes.
Cable assembly board
Testing of the OEM wire harnesses:
Testing is an ongoing process from the design and prototyping to the final stage.
The Testing helps you meet each stage's milestones, ensures careful project planning, and saves time and money spent in the next stage.
Manufacturers generally use a test board to test the electrical functionality of a harness, and the board is programmed to test the specific characteristics of a particular product.
Manufacturers connect the harness to the test board the same way they connect it to its final destination.
Engineers perform tests such as freezing, bending, and stretching on the OEM wire harnesses to make them pass through quality assurance testing.
Often, they undergo Testing on prototypes even before the small production to ensure that the final products manufactured are the most efficient ones.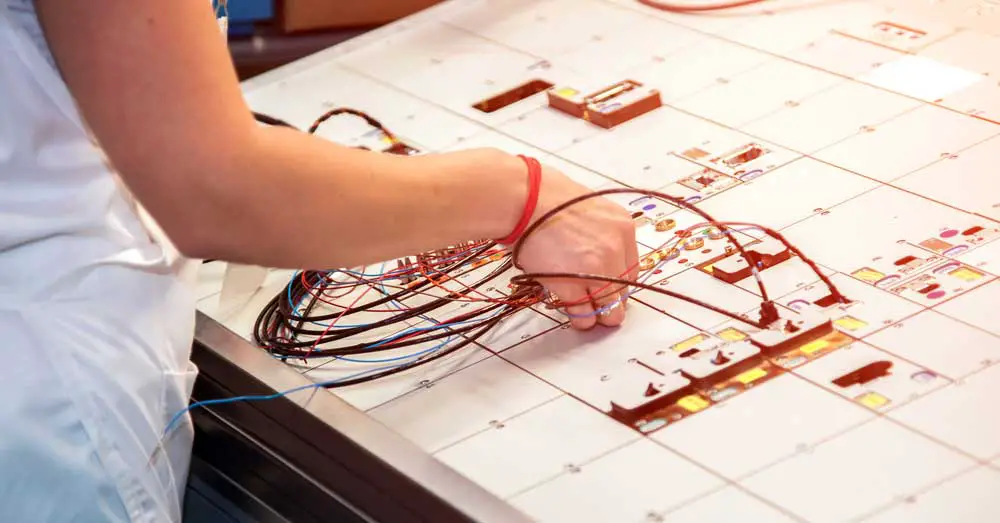 Car wire harness on test board
Choose Cloom as your OEM wire harnesses manufacturers:
At Cloom, our engineers work day and night to resolve all the integration issues so that the harness gives you a drop-in installation.
We design OEM replacement harnesses pro products with
Wire: we use high-quality wires developed to bear the most extreme environmental conditions of the gas and oil industry.
Our wires are flexible and resistant to fluid, UV, moisture, fire, and abrasion.
Identification: We make sure to label each wire and cable with an alphanumeric code at every 50mm wire length with the help of an inkjet printer.
You can easily read this printed code, which is also resistant to chemicals and UV light.
Further, as it is a touch-free process, it does not change the wire insulation properties.
Termination: Crimps and their applications in the termination processes are an essential aspect of OEM harness manufacturing, and thus, we only pick the highest quality.
Further, we regularly perform tension tests and equipment calibrations as part of our quality control process.
Connectors: we always use genuine connectors from the most trusted manufacturers, including HDSCS, AMPSEAL, DEUTSCH, DELPHI, and LEAVYSEAL.
Assembly:
Harnesses manufactured at our facility comply with international standard IPC/WHMA-A-620C, ensuring that only the highest quality products reach you.
Braiding:
We move a step forward from the industry standards and braid our wire harnesses instead of using corrugated conduits.
The internal movement of the wire with contaminants causes the wire to wear away in case of a conduit until an open circuit happens.
When we braid the wires, it holds the wires tightly, restricting any movement.
Further, the diameter of the wire harness also reduces a bit with braiding so that you can install them in tight spaces.
Quality:
Our professional team ensures our products comply with the highest quality standards.
After assembly, we send every wire harness through visual and automated testing procedures.
The state-of-the-art testing equipment tests the harness's resistance, capacitance, and diode polarity.
There is an automated procedure to compare results with the specified database and declare if the product has the correct specifications.
Conclusion:
Whether restoring your vehicle to its original factory configuration or building a fully customized truck, car, or street rod with the four wheels and the engine, you can look at our OEM styles and factory-original harnesses.
Our products are "plug and play," ready to install, and can be configured to your requirements completely.
Cut or crimp wires and terminal or other wiring harness changes are unnecessary.
Please feel free to contact us for detailed information.