Before the invention of Flexible Flat Cables (FFCs) and Flat Printed cables (FPC), the electronic industry used traditional round cables in their wiring solutions.
However, modern-day technology, such as laptops, mobile phones, etc., had limited space and demanded a more flexible wiring solution.
Therefore, manufacturers constructed FPC and FFC as an ideal fix to this raging problem of the coming age (early 2000s).
Understanding Flexible Flat cables
Flat Flexible Cable (FFC), as a connecter between the two components in the device, is an electrical cable similar to a flat, thin ribbon.
Since it's flexible, it can easily fit inside limited/tight spaces of modern devices such as laptops, digital clocks, scanners, printers, mobiles, LCD applications, and more.
Manufacturers make it by laminating very thin copper strips between two PET layers.
In this process, copper strips are placed on a plastic film which is then laminated between the film and photoresist layer.
Once done, thermosetting is applied to the laminated layers to harden the copper strips and achieve the desired design pattern.
Both ends of the cable are often reinforced with a stiffener, making insertion easier or providing strain relief.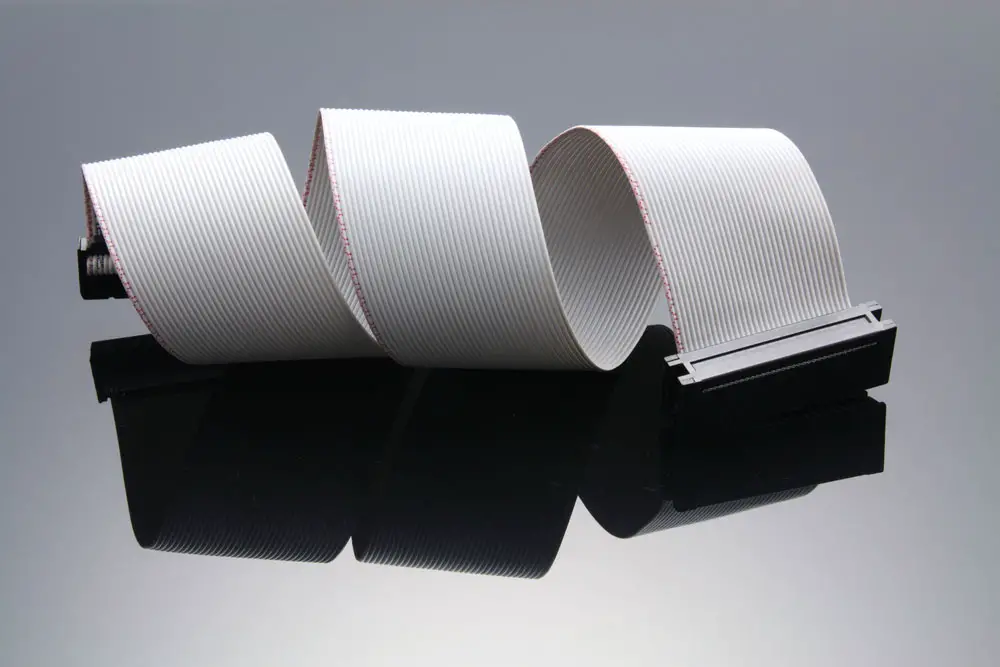 Caption: A ribbon cable
Specifications of FFC cables
The following are the given specifications of the FFC cables:
Number of Conductors (Pins)
Flat Flexible Cables (FFC) contain several conductors, ranging from a few to hundreds, responsible for conducting and transferring electrical signals within interconnections.
Generally speaking, a 40-pin is also an FCC cable with 40 conductors.
Pitch
Pitch is the distance between adjacent pins or conductors, which determines the electrical performance of the FFC cable.
Furthermore, FFC cables come in various pitches, such as 0.500 mm, 0.625mm, 0.800 mm, 1.27 mm, and 2.54 mm, whereas manufacturers commonly use the following pitches, such as 0.500 mm, 1.00 mm, and 1.25 mm.
Additionally, one FFC cable can have multiple pitches between its conductors, which is rare.
Type
FFC cables usually come in two types. Type 1 cable, also known as Molex, contains exposed contacts on the same side of the cable at each end.
On the other hand, Type 2, also known as Type D, contains exposed contacts on the opposite side of the cable.
Exposure Length
Manufacturers refer to this as the length of the exposed electrical contact of the FFC cable.
Stiffener
FFC cables contain a special type of extra material (stiffener) on the opposite side of the exposed length, which make the insertion easier and less resistant.
Conductor size
The breadth and thickness of the pins (conductors).
Caption: FFC
Differ FFC from FPC
Acting as a connecter, a flexible printed circuit (FPC) is similar to FFC in several aspects.
However, it is different in terms of the nature of the material. Instead of flat solid conductors, FPC contains conductive traces or printed circuits on a plastic film, which is bent to fit in close spaces of digital devices.
Generally speaking, using traditional round wires in bulk was impossible to create modern compact devices.
With these circuits, manufacturers can easily use their flexible properties instead of deploying circuit boards due to space constraints.
Flexible circuits have a passive wiring structure and perform the function of a bridge between the two components where closed.
Tight space is an issue, such as capacitors, integrated circuits, and resistors.
In other cases, manufacturers use flexible circuits to interconnect one electronic assembly with another, including in consumer electronics such as cam recorders, mobile phones, calculators, etc.
Furthermore, electronic engineers use flexible circuits as interconnections in several medical and industrial devices.
Caption: FPC
Why choose FFC Solutions over wire-to-board connectors?
Manufacturers prefer FFC as a powerful solution over wire-to-board connectors for the following reasons.
Greater Flexibility
These cables are easy to manage as compared to traditional round cables.
Manufacturers use FFC cables as the ultimate solution to space constraint issues in compact devices.
They are easy to fit and install within tight spaces without compromising electronic components.
Furthermore, these cables also empower our clients to eliminate wire-coupling issues while getting better RFI/EMI suppression.
ZIF Connection
FFC, compared to all other circuitry solutions, offers flexible, low height profile, low weight, and easy-to-use solutions.
Furthermore, they also contain special material that makes them zero insertion force (ZIF).
It means you can connect the assembly to these cables without exerting excessive force.
These cables also contain actuators responsible for holding the cable in its place in case of shock or vibration.
Pre-Formed and enhanced Cables
Another major advantage of using FFC is that it can easily be custom ordered.
You can order multi folds or single-fold cables per your desired requirement.
The cables also come with tapes, labels, or insulators upon request.
Caption: The wire-to-board solution
Choose Cloom as Your Flexible Flat Cable Supplier
At cloom, we aim to provide you with the best interconnection solutions while taking out the guesswork for you.
Our teams select FFC connectors and cables by carefully studying your specifications.
Similarly, it's important to discover your pitch, circuit count, and plating.
We'll need to evaluate your application based on the following aspects:
Assessing the cable length between two electrical components or assemblies.
Determining whether you'll require Type-1 or Type-2 cable.
Assessing whether you'll install the cable in the static or motion-based application.
You can get custom FFCs with the following aspects:
Available in 0.3 mm, 0.5 mm, and 1.0 mm pitch.
Same-side or Reverse side contacts.
Available in varying lengths.
Gold-plated contact options.
Made to measure each customer-specific requirement.
Up to 80 conductors, depending on the pitch.
High-temperature cable is available on request.
Conclusion
At Cloom, we can provide you with a variety of flexible flat cables (FFC) and flexible printed cables (FPC) that are 100% compatible with zero insertion force (ZIF).
Our FCC cables are an ideal solution to all the space-constrained problems within compact devices such as Printers, scanners, cameras, medical devices, and other systems.